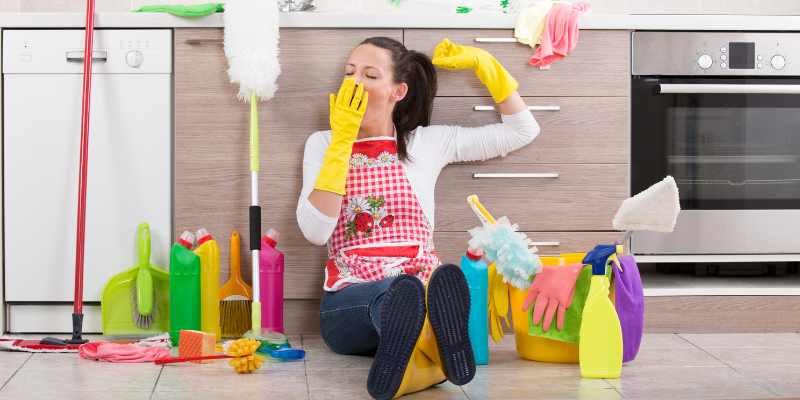 · By Tara Tyrrell
7 Quick & Easy Cleaning Hacks For A Better Clean
Cleaning is a chore you can't ignore. It's important for the health and wellbeing of your family, and the lifespan of your furniture and flooring. But let's face it, it's a chore most of us could do without, so you want to at least make sure it's as easy as possible. With these cleaning hacks, you can enjoy a cleaner house much quicker.
1.Vacuum Tricks
The vacuum isn't just for floors anymore, it's a helpful tool for curtains, blinds, walls, and ceilings too. It can tackle any cobweb, hoover up dust, and keep your home clean.
If you have a textured ceiling that doesn't respond well to the vacuum, you can use a damp paint roller to remove cobwebs and dust. Socks can be a useful tool for cleaning blinds if your vacuum doesn't have the right attachments.
2.Pillowcases & Ceiling Fans
Ceiling fans are an important part of any home in a warm environment, they're also dust collectors. Your vacuum doesn't do the best job of capturing all the dust, but a pillowcase can. Slip the pillowcase over the blade and wipe it down. The case captures all of the dust and saves your furniture and floors from a mess. Simply repeat the process across all of your ceiling fan blades one at a time.
3.Do it Right
There is a right way and a wrong way to clean, and the wrong way will make more work. So, when you clean, be sure you do it from top to bottom, otherwise, you will have to dust and vacuum multiple times. The key to a cleaner house is cleaning more frequently. Cleaning little and often means you can avoid the time-consuming deep clean that you put off.
4.Spot Cleaning
Baby wipes are your new best friend when it comes to spot cleaning, especially when it's fabric. They contain gentle cleaning ingredients, and they are low-moisture so the surface dries quickly. Use baby wipes to spot clean debris or stains on fabrics.
5.Optimise The Use Of Baking Soda & Vinegar
Firstly, you can use this trick to clean your dishwasher. Let a cup of baking soda sit at the bottom of the empty dishwasher overnight. In the morning, run the hottest cycle with vinegar in place of detergent. Just be sure to remove any debris from your filter.
Secondly, you can use this trick to clean your washing machine. Add two cups of baking soda to an empty washing machine and run a long hot water cycle. When this is done, you can add two cups of vinegar (and a dozen drops of your favourite essential oil) where you put your detergent. Run the hottest and longest cycle your machine can. When this is finished, wipe the entirety of your machine down with a clean cloth. Keeping appliances clean ensures they do their job well.
6.Tackling Hard Water Stains
If you have hard water stains, you can tackle them with some kitchen roll soaked in vinegar. Leave them on the stains overnight, and scrub and rinse the area in the morning.
7.A Fully-Stocked Arsenal
You can't have a clean house without the tool cleaning tools at your disposal. If you need to top up your cleaning arsenal, be sure to visit CleanHQ to shop for a wide range of products. The Astonish range provides a wealth of options from the bathroom and kitchen to carpet and glass cleaners. The Pink Stuff can do plenty of heavy lifting, while Scrub Daddy can help you get the job done.
Clean HQ is a veritable one-stop cleaning shop. Stock up today and you'll be prepared for anything!