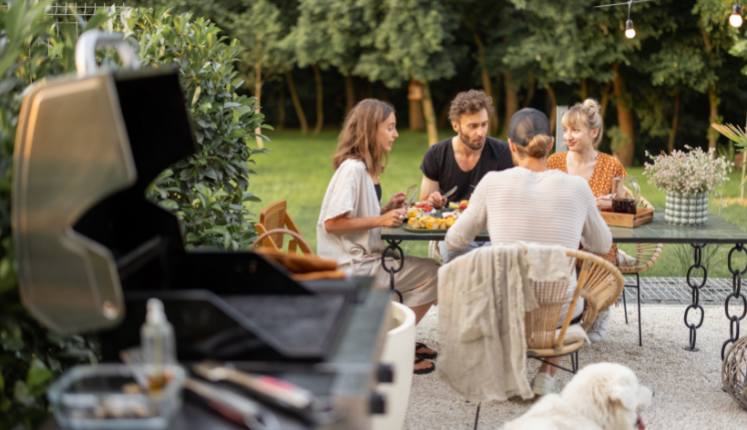 · By Tara Tyrrell
7 Tips To Get Your Outdoor Area Ready For Spring
Spring has sprung! So, it's time to get your outdoor area ready for all the barbecues you're about to host (COVID permitting). With flowers appearing and warmer weather just days away (we hope), you want to get your prep done as early as possible so you can fully enjoy the rewards. Here's 7 handy tips to get started on that backyard clean-up!
1. Tool Time & Pre-Work
First things first, you need to look at all the tools and equipment you will need to get things ready. Clean everything with soap and warm water. You can use mineral spirits on wooden handles to preserve the wood and prevent splinters. Make sure your lawnmower is in working order, ready to go. If you have gas-powered tools, fuel them up.
The best time to rake and trim is in early spring. A healthy trim job will keep your plants compact, shape them, and promote growth. For this job, you will need anvil or pruning shears. If you want to trim back branches, lopping shears will do the job. If you have branches larger than a couple of inches a bow saw might be necessary.
2. Inspection Time
Your decking, fences, and sheds may require inspection if it has been exposed to inclement weather over winter. This inspection will allow you to address repairs if any damage has been done. In terms of your deck, you will need to check the surface and underneath, look for damage, rot, or mildew. You should finish with a thorough pressure wash and apply a fresh stain/sealer to finish. Repeat this process for your fences, shed(s), and garage.
3. Prepare The BBQ
You can't barbecue without a grill so, be sure it's ready to cook on. Empty old ashes, clean connections, stock up on charcoal or propane and give the entire machine a thorough scrub-down. Give the tools a clean too and replace any looking worse for wear.
4. The Lawn
It's easier to maintain a smaller lawn, and it's more environmentally friendly too . There's less to water, and it gives you more space for plants that attract wildlife. Now is the time to get stuck in there and start planting. Choose plants based on their water needs; native plants often require less water. You can use pebbles to keep the weeds at bay.
5. Mulch
Give your plants the best possible chance by layering them with mulch. This will help protect the roots, keep the weeds away, and keep them hydrated. Better yet, it makes your garden look well-manicured.
6. Garden Furniture TLC
Even if it was covered, your garden furniture is going to require attention . Warm soapy water should be more than enough to revive plastic. With timber furniture, you can start with a basic clean and finish the job with wood oil.
7. Address Pests
Keeping your garden clean will help prevent many pests, but certain pests are attracted to your plants. Inspect under leaves and brush off flies and bugs. There are also plenty of organic pest control options that won't harm your pets or local wildlife.
Now that your garden is ready, you can enjoy it. And remember to spend some time maintaining the space daily over the next few months, so it looks sharp all the time.