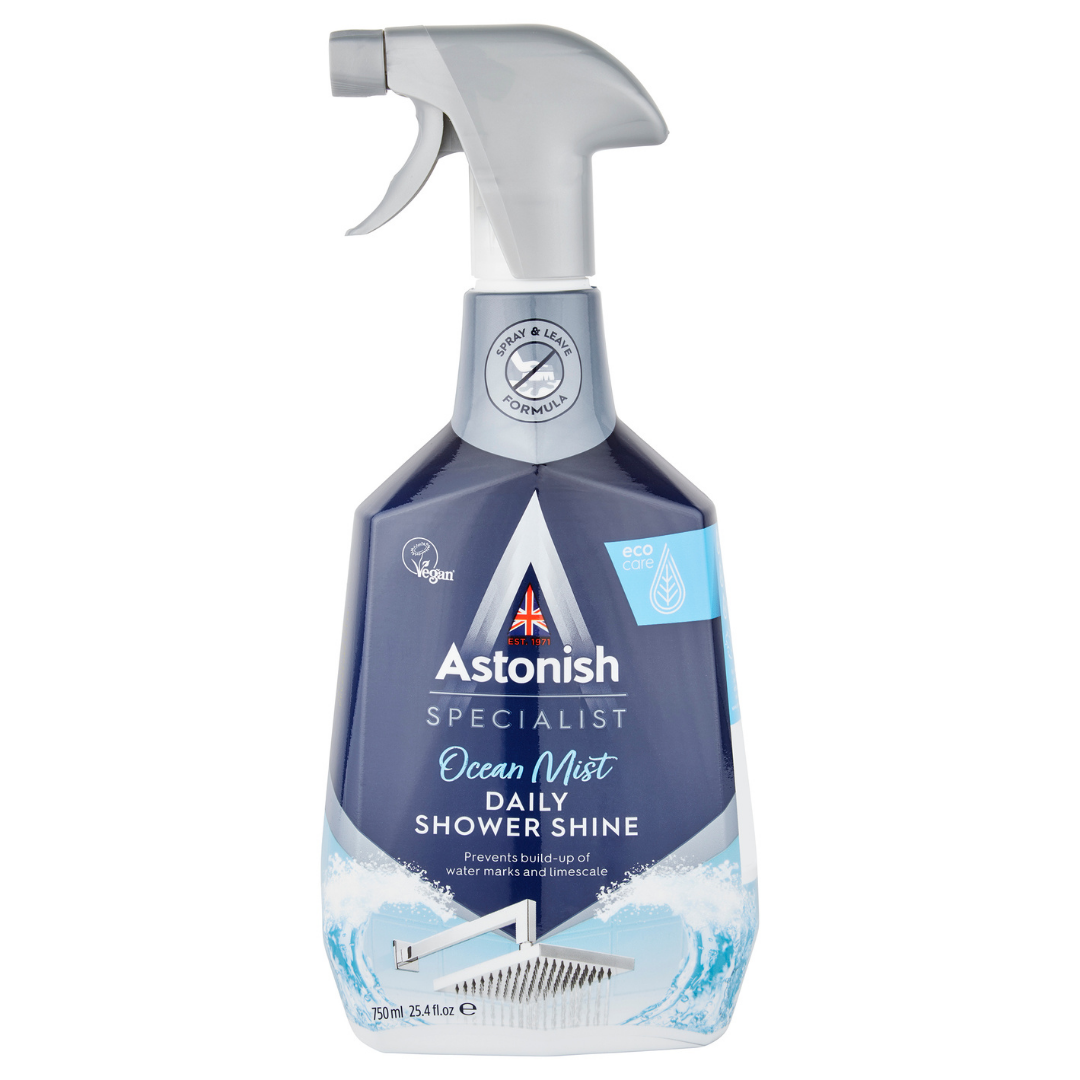 Astonish Specialist Daily Shower Shine Ocean Mist (750ml)
Our Specialist Daily Shower Shine is a sparkler. Simply spray over surfaces to prevent the build-up of watermarks or limescale and reducing the need for that deep clean.
Description
The Specialist Daily Shower Shine can be used on plastic & glass screens, enamel trays, tiles and vinyl curtains. It dissolves soap scum and water marks, prevents build-up of limescale and leaves a crystal clear shine. Regular use will help prevent any limescale build-up.
A quick and easy cleaning solution: simply spray and leave after showering, no scrubbing required!
Fully recyclable bottle, cruelty free, vegan, biodegradable & plant based
The Astonish Specialist range has been developed for specialist cleaning tasks and surfaces. The range contains our best performing products yet, look for the added benefits in the roundel on pack.*
*Versus Astonish's everyday daily shower shine: +25% increase in detergent level. Increase in natural fruit level to boost limescale removal plus higher chelant levels to boost performance in hard water areas.
How To Use
Shower, spray and leave. Repeat daily in hard water areas to remove any limescale build-up.
Safety Information
CAUTION: Do not use on fabrics, wood, brass, limestone, marble or any damaged surface.
FREE SHIPPING FOR ALL ORDERS OVER $75.

Shipping costs calculated at checkout. Please allow 1-2 business days for orders to be processed and dispatched.
We're happy to facilitate a free return for new, unused products in original packaging. Just make sure you contact us within 30 days of receiving your order.

Please refer to our return policy for detailed information.