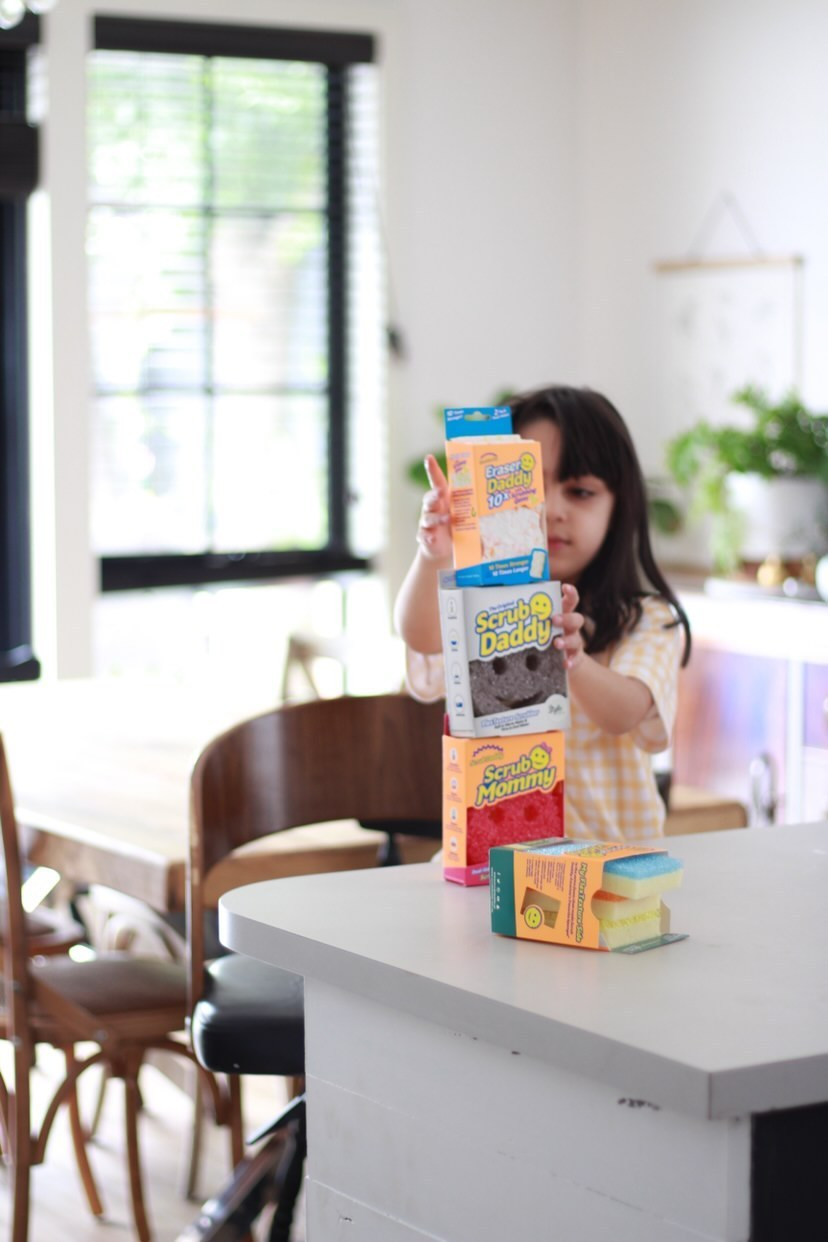 · By Carl Pronti
Vol 5. Rani Engineer
Rani wears several hats as a brand stylist, visual storyteller, photographer and content creator all while raising her daughter Elie.
Rani's styling blog La Maison Jolie has been recognised (more than a few times) as a 'must read' when considering restyling your home.
Hi Rani! This series is called The Mess Makers. How do you make mess?
In our home making a mess is not only easy but also seems to be a daily requirement! Unleashing my 5 year old usually does the job pretty well!
My 5 year old daughter loves to craft and paint, which usually means getting paint and glue on her hands and face and eventually on her clothes and toys and sometimes even on the furniture. There is also a fair bit of mess made by me especially when I'm working on in-home brand styling campaigns. My husband is also not immune, he too makes a mess, pen marks on work shirts, work papers all around, books and folders on the floor, muddy socks and shoes…you name it!

How did you discover Scrub Daddy & The Pink Stuff?
I had heard about Scrub Daddy from a few of my friends in the past and when Scrub Daddy reached out to me, I was excited to try the product. This is the first time I've heard of The Pink Stuff.

How has Scrub Daddy and The Pink Stuff helped you with your 'mess'?
Ironically, I hate cleaning but I love a clean home! Scrub Daddy is a fantastic product! It takes minimum elbow grease to clean stubborn grime and dirt. I clean the kitchen sink, oven door, our fridge, dining table, shower doors, window sills and skirting boards with Scrub Daddy. I use different coloured ones for different parts of the house.
The Pink Stuff laundry powder and spray is actually wonderful to get stains out of clothes. It also stops the whites from 'yellowing' and gets grass stains out of socks and clothes so easily.  Both are great products to eliminate mess in a quick, easy and painless way!
Your photos are incredible, have you always loved being behind a camera?
Thank you! Photography has always been my safe place. Whenever I feel restless or uninspired, it is calming to pick up the camera and snap away at random compositions. It quite literally requires you to focus thereby changing your mindset and letting your creative side takeover. Its' therapeutic!
My favourite subject is my daughter, I absolutely love capturing her and  her crazy antics!

Your daughter Elie is often featured in your social media campaigns, has she always been your little helper with your work? 
Yes! Elie is very artistic and unlike me, a complete natural in front of the camera. She is my muse, my helper, my assistant and sometimes even videographer!
Although sometimes Elie can be 'too helpful'. For instance if I'm photographing a food based campaign, some 'edible props' such as lollies, cookies, fruit or cake may go mysteriously 'missing' in the middle of the shoot!

What is your favourite room/favourite area in your home?
Elie's bedroom has to be one of my favourite rooms. A lot of love went into creating a special space for her. I also love the green nook in my dining room. I photograph it often as it has the best 'soft' light in the house. I also love our bedroom…it's a minimalistic calm sanctuary.
What has been the most difficult part of getting to where you are today?
I think the most difficult part has been finding the time to invest in doing what I love. Time is a resource that is extremely scarce in my life. Like most people we lead busy, active lives and finding the time to multi- task and shuffle priorities is always hard. It's also been an uphill road to create something special from nothing more than just my love for design and décor.

I know you love to DIY – can you show us your favourite project you have worked on?
It's hard to choose a favourite. I think when I complete a project, that project becomes a hot favourite for the next couple of weeks, till I move onto the next one. The most recent DIY that we completed was a complete overhaul of the front yard. Pulling out the existing grass, levelling the yard with fresh top soil and laying new turf. And then landscaping with hydrangeas by the fence to complete the look of a green urban oasis.
Painting the exterior of our house during lockdown was another massive DIY project that I undertook.
Internally, upcycling an old sideboard, wallpapering Elie's bedroom and designing a new wall to wall bookshelf are all DIYs that have been fun projects.

I'm also almost done designing and refurbishing a guest bedroom for a friend, complete with gorgeous wallpaper. I'll be revealing the room soon on my Instagram!
Can you share a favourite recipe/hot tip/local café with us?

Oh there are so many, but I think I'll share a recipe of my go to drink on a hot summer's day!
This is a recipe I created for a campaign and since then it's become a weekend favourite!

The Pink Minx (my take on the classic Moscow mule)

To make this awesome cocktail today you will need...
2 ounces of vodka 
4-6 ounces of ginger ale syrup – I use the one from of Six Barrel Soda Co because the flavour is delicious!
2 ounces of cranberry juice
An extra-large splash of lime or lemon juice
Fresh mint or basil for garnish
Also freeze some cranberry juice ahead of time in an ice cube tray for an ombré effect.

Instructions...
Squeeze the lime into the glass
Add two cubes of ice
Pour 2 oz vodka over ice
Pour 4-6 oz ginger ale
Pour 2 oz cranberry juice
Stir and add an extra cube of cranberry ice cube on top
Garnish with a sprig of mint or fresh basil.

The Pink Minx is best enjoyed on a sunny Friday arvo with a like-minded cocktail lover!
If you're in the process of styling your own home, head over to Rani's blog
La Maison Jolie
for what's trending in the interior space!
You can also follow
Rani's Instagram
for your daily dose of inspiration.
Stay tuned for our next Mess Maker!