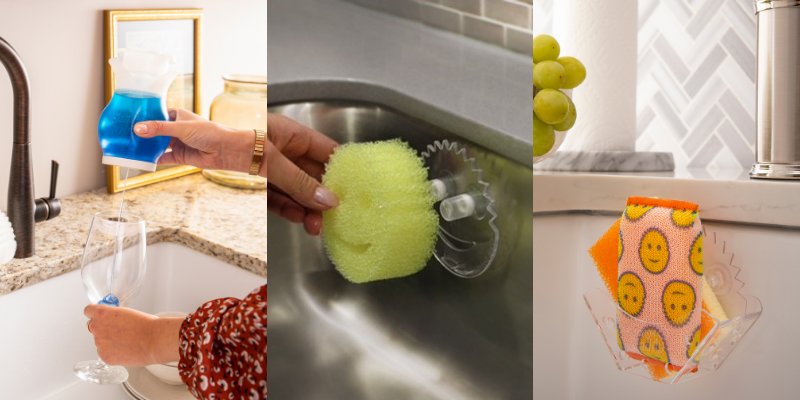 · By Tara Tyrrell
Product Spotlight: Daddy Caddy, Sponge Caddy & Soap Daddy
If you are already sold on the Scrub Daddy range, then you need to read this article. Are you looking for a helpful solution for wet soapy sponges? Enter the Daddy Caddy. It's the perfect storage solution for keeping your Scrub Daddy (or Mommy) safe, sound, and hygienic. This handy little holder can make its home in a variety of places, attaching to different surfaces.
A Daddy Caddy will help keep your counter clear, but your scrubber is near enough to wash up quickly. The suction cups are included to allow you to place your Daddy Caddy wherever you like. Simply add a drop of dish soap to the suction cup and place it against the sink wall. The Caddy ensures your smiling face sponge drains easily to extend its lifespan and keep it hygienic. It promotes quicker drying, which means your scrub is ready for use time and time again.
The Benefits of the Daddy Caddy
The Daddy Caddy is a handy storage item - not only does it give you the perfect place to store your Scrub Daddy, but it also helps you keep a clear worktop. There's no need to buy a countertop caddy that takes up work space. The Daddy Caddy improves the drying process so your sponge is ready to go when you are. It's far more sanitary than leaving your sponge at the side of the sink or sitting it on a soap dish. Another added benefit of the Daddy Caddy is it is so easy to install. All you need to do is select their home, attach the suction cups, and put them up. The ideal home is in the sink. So, it drains directly into the sink rather than pooling on your kitchen counter.
Daddy Caddy saves countertop space.
Daddy Caddy keeps your sponge handy whenever you need to use it.
It organises your sink area.
Reduces the risk of a wet and messy worktop.
Daddy Caddy is a more hygienic way to store your sponge.
The low profile design makes Daddy Caddy the perfect addition to sinks of any size. Dual suction caps ensure a secure hold to any smooth, clean surface.
Sponge Daddy & Soap Daddy
The Sponge Daddy Caddy range doesn't stop at the Daddy Caddy. You can also opt for the Sponge Caddy, which accommodates the Scrub Daddy range as well as many different shaped traditional sponges. Don't forget to grab yourself a Soap Daddy to go with your new sponge and Daddy Caddy. The Soap Daddy is a dual-action soap dispenser. Fill it with your preferred soap and press the top to deposit soap into your hand or onto your sponge. Or you can squeeze the sides to direct your soap spray into the sink or onto your pots and pans. Now you don't need to worry about hand soap and dish soap cluttering up your counter – you have a two-in-one solution that's easy to use.
Whatever your Scrub Daddy preferences, or cleaning product needs, know that CleanHQ has you covered.