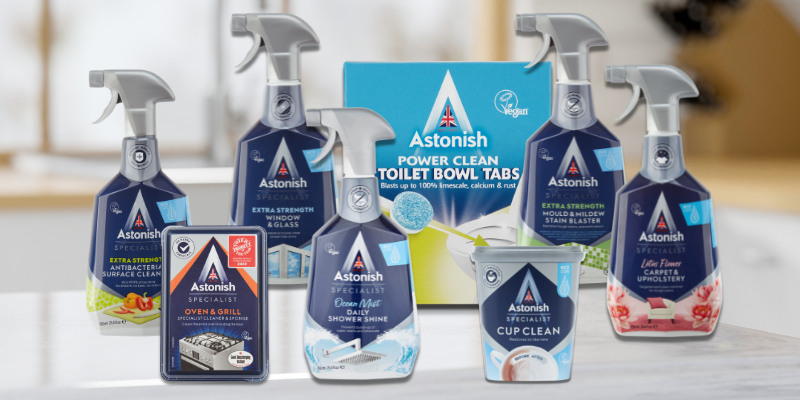 · By Tara Tyrrell
5 Reasons Why You Need Astonish In Your Cleaning Arsenal
Maybe you've seen it in the cleaning aisle, maybe you haven't – but what you need to know Is there's an Astonish product for just about everything and anything. There are five major reasons why you need Astonish in your cleaning arsenal.
1.A Crystal Clean Shower
Astonish Daily Shower Shine is a daily product you can use to spray down your shower, shower glass, and plastic screens, and you don't need to scrub a thing. Simply spray it down and leave it to do the work. You don't even need to rinse it. Not only does it tackle soap scum, but it also helps prevent the build-up of limescale. It's specially formulated to keep things sparkling clean. You can also use it on tiles, vinyl curtains, and enamel trays to keep your shower crystal clean.
2.Tackle Stubborn Stains
Cup Clean, also known as Clean & Revive, is a unique product designed to tackle even the most stubborn cup stains. But it also works in teapots, flasks, and more. Astonish is approved by the Vegetarian Society, Cruelty-Free International, and is registered with the Vegan Society. You can rest free knowing the products are cruelty-free. All it takes is a tablespoon for pots or flasks and half a tablespoon for mugs and cups and fill with almost boiling water. Leave your crockery to cool for an hour or two and all you need to do is rinse with clean water. You can also use Cup Clean on glass, glazed ceramics, plastic pots, and stainless steel.
3.Remove Mould
Astonish Mould & Mildew Blaster is an effective tool for tackling tiles, grout, shower curtains, and even mouldy walls. It is important to note that it contains bleach so be sure you don't use it in an area where you wouldn't also use bleach. Not only does it remove mould, but it also kills 99.9% of bacteria, which if used regularly, can help prevent the mould from coming back. In addition to walls, tiles, grout, and shower curtains, you can also Mould & Mildew Blaster on uPVC window frames, silicone sealant, sinks, concrete, and plug holes.
4.Sparkling Clean Toilet Bowls
Astonish Toilet Bowl Tabs are a nifty way to clean your toilet bowl and keep it sparkling. Just drop the tab into the toilet bowl and leave it overnight (or for at least 20 minutes) and let it do the hard work for you. The tabs will tackle stubborn stains and limescale with ease. If you live in a hard water area, you may want to use the tabs regularly.
5.Ditch Old Cooking Smells
It's probably one of the worst cleaning jobs because it's the one you put off until it becomes untenable. Luckily, Astonish Oven & Grill will help cut through the grime and leave you with a lovely orangey scent. There are no harsh chemicals so you don't need globes, but the sponge can clean the entire oven, including the oven door. It's powerful and easy to use, just dampen the applicator, apply the cleaning paste, and rub in circular motions. You can rinse and clean the area down with the applicator's sponge side.
You can complete your cleaning arsenal by shopping Clean HQ, a one-stop shop for all your cleaning needs.