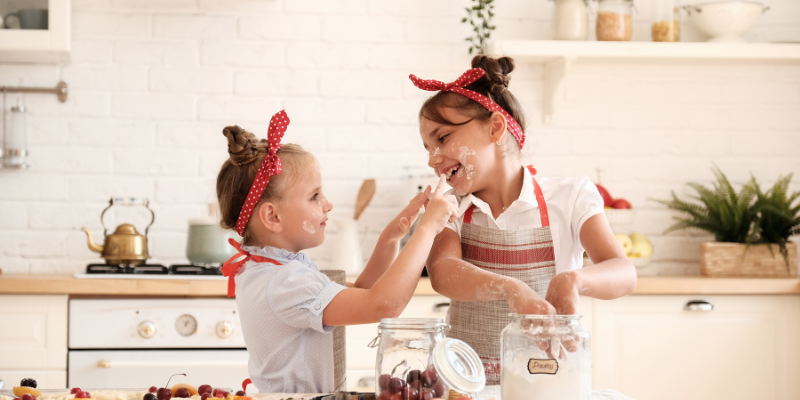 · By Tara Tyrrell
6 Kid Friendly Recipes You Can Cook Together
Whether you're in lockdown, or you're simply pulling your hair out with the kids at home these school holidays, we're here to help. There's nothing more exciting for kids than getting dirty, and even better if you end up with some delicious treats to eat at the end of the day. If you love cooking, or you simply want to try something new with the kids, these boredom busting recipes are not just easy to create, they're super tasty as well!
Pizza
Most kids love pizza, and if they don't, they will when they make their own. Whether you buy the bases ready-made, make your own, or you decide to cut up some French bread sticks for a simple base – as long as you have the right toppings, pizza can be delicious at any time of the day. 
Let the kids help you cut up all the ingredients so they can choose their own toppings. Good options include ham, bacon, salami, capsicum, corn, pineapple, baby spinach, and of course, cheese.
Cookies
To make cookies with the kids, you just need a few simple ingredients. Vanilla sugar cookies are a sweet treat, and a lot of fun to make. 
3 cups of self-raising flour 
¼ teaspoon salt
226 grams of butter at room temperature
1 cup of sugar
1 egg
2 teaspoons of vanilla extract
Mix the flour and salt together in a bowl, then separately mix your butter, sugar, egg and vanilla with an electric beater – before joining both together. 
Roll the dough into one-inch balls and put them onto baking paper, two inches apart. 
Freeze until firm, then bake at 180 degrees for 12-14 minutes.
Pancakes
Another simple treat for breakfast, brunch, lunch or a lazy dinner, pancakes are always a hit with kids. 
Mix 2 cups self-raising flour 
1½ cups of milk 
1 egg
2 tsp vanilla extract
¼ tsp bicarb soda
1/3 cup caster sugar 
25g melted butter
You can use a beater or whisk, and if you want to make them more fun, add some fruit or food colouring to the mix. Pour into a hot oiled pan, and once the bubbles start to pop on the batter, flip the pancake over to cook the other side. Decorate with sliced banana, almonds and berries!

Breakfast Toast Cups
For something a little different at breakfast (or dinner), try these breakfast toast cups. 
Get your muffin pan out, add some cooking spray, then cut your bread into squares or circles to fit into the muffin holes as a base. On top of the bread, add some baby spinach and grated cheese, then a little slice of bacon, before finally cracking an egg to fill the hole. Add salt and pepper to taste and put in the oven at 180 degrees for around 15 minutes.
Anzac Biscuits
It doesn't have to be April to enjoy Anzac biscuits. These are some of the easiest, tastiest biscuits you can make – and they won't take long at all. 
In a bowl, add 
1¼ cups plain sifted flour
1 cup rolled oats
½ cup caster sugar 
¾ cup desiccated coconut 
Move to the side. In a saucepan over low heat, add 2 tablespoons of golden syrup and 150g of unsalted butter to melt. 
Then mix 1½ tbsp bicarb soda with 1½ tbsp water, then add to the melted syrup. 
Pour wet ingredients into dry, combine, then roll into balls, place on trays and press down slightly. Cook in the oven for around 12 mins at 180 degrees.
Creamy Mac n Cheese
Nothing says winter warmer better than Mac n Cheese and it's easy for kids of all ages to make, with mum or dad's help. 
All you need is 2 cups of shell pasta, 2 cups of milk and 1 cup of cheese. 
In a medium saucepan, add milk and pasta, cooking for around 20 minutes or until the pasta is cooked. Then remove from the heat, add the cheese and stir until melted. Add salt to taste. 
The most important thing when cooking with kids is that you have fun (safely), experiment, and let them (and the kitchen) get dirty. 
Once you're done, you can easily clean up, and keep the smile on your face, using Scrub Daddy. The FlexTexture® changes based on the water temperature, so you can use cold water for any scrubbing or hot water for light cleaning to get rid of any leftover food debris. Happy holidays!